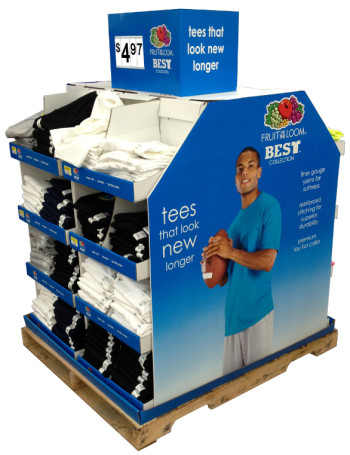 Club Store Displays
Over the years, some of our best work has been on displays in warehouse club store environments such as Costco, Sam's Club, and BJ's Wholesale Club.
We have developed effective solutions for warehouse club store pallet displays, redemption cards and fully packed-out displays that include corrugated trays and product packaging. Learn more about our services below.
Custom Displays
All displays are custom designed and manufactured - we don't sell stock displays.
Everything Under
One Roof
Prototyping, design, printing, manufacturing and distribution all completed in-house.
Speed
Because everything is under one roof, we are the fastest in the business (over 99% on-time).
60 Years of Experience
We know what works at retail, including understanding store specs at major retailers.
Warehouse Club Stores Examples
Hear What Our Customers Have to Say
"Thank you for checking in and also appreciate your wonderful service! We have enjoyed working with you on the displays."
– Gayle P., GAP Promotions
"Thank you, your team went above and beyond on this order."
– Shane S., Zanybandz
"The counter top display product was great thanks so much for your help We will order more next spring."
– Robert B., LIF Publishing
View More Testimonials
What Products Are Warehouse Club Store Displays For?
Warehouse stores sell a general variety of personal and home products, but the most commonly displayed items are expected to sell quickly. A display can showcase products like the following and many others:
Clothing and fashion accessories: Pajamas, office clothes, dresses and seasonal fashion items.
Food and groceries: Cereals, bakery items and food supplies commonly bought together to make specific meals.
Home goods and supplies: Rugs, lamps, dishware, shelf sets and cleaning equipment.
Personal hygiene items: Dental health products, skin care products, menstrual products and toiletries.
Beauty products: Hair products and cosmetics, including makeup, hair dye, beauty tools and nail polish.
The Benefits of Warehouse Store Displays
Warehouse displays are a preferred method of in-store advertising because of their many benefits. Some of the most significant are that they:
Attract interest: Customers will spend more time looking at a creative display with new products and are less likely to overlook new launches or sales events.
Promote products: Eye-catching displays give customers a good first experience with a product and encourage impulse buyers to make a fast purchase.
Create brand awareness: Customers who spend time near the displays when shopping for certain items are more likely to remember the associated brand name, colors and overall style.
Increase sales: Display stands are designed to sell more products quickly and are often effective when used correctly.
Make products accessible: Displays make good use of the confined space in a warehouse store. Customers are able to find and purchase products easily.
Provide an enhanced shopping experience: Customers are willing to spend more money when they have a pleasant experience. Displays are artistic, provide helpful information and make locating products an easy task.
Direct store traffic: Customers who stop at a display may go into a nearby aisle to look for other products from the same brand or for a similar purpose. Retailers place displays strategically where many shoppers will walk through or draw shoppers to certain areas of a store.
Design and Build a Club Store Display with Creative Displays Now
Creative Displays Now has helped businesses create club store displays and demonstration units for over 60 years. We build custom displays based on your needs for selling a product. Popular display types for warehouse store products include the counter shipper, pallet, corrugated power wing and more.
We control the process of designing and printing the products in-house using methods like lithology, flexography and digital printing. Contact us about getting a quote. Partner with us today to promote your products in warehouse club stores. For more information, feel free to give our team of experts a call.