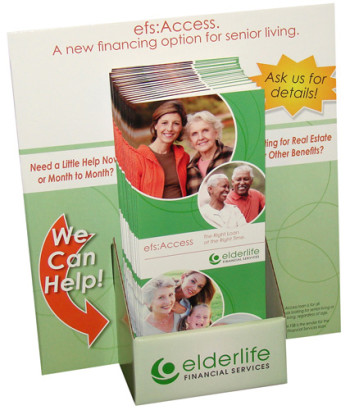 Custom Literature and Cardboard Brochure Displays
Get your message to the marketplace with a custom cardboard brochure holder or literature display! Whether it is a tri-fold, 8.5 X 11 sell sheet or any custom sized literature, we can produce a custom corrugated cardboard holder or point of purchase (POP) literature display to act as an additional marketing vehicle. We can also incorporate a literature or brochure holder into any customized counter or floor display to fit your needs.
Custom Displays
All displays are custom designed and manufactured - we don't sell stock displays.
Everything Under
One Roof
Prototyping, design, printing, manufacturing and distribution all completed in-house.
Speed
Because everything is under one roof, we are the fastest in the business (over 99% on-time).
60 Years of Experience
We know what works at retail, including understanding store specs at major retailers.
Brochure Holders Examples
Hear What Our Customers Have to Say
"Your team did a wonderful job helping us with this project…I look forward to being able to work on other POP / corrugate jobs with you in the future."
– David K., Rosetta Stone
"Your service is the best I came in contact with. The displays and shipper covers look great. I want to thank you for everything."
– Kevin W., Calcium Products, INC.
"You and your company did a great job. Your customer service and turnaround were outstanding–the team and the retailers are very happy with the display."
– Doug H., Sandy Alexander, Inc.
View More Testimonials
Benefits of Custom Literature and Cardboard Brochure Displays
Brochures and pamphlets can powerfully convey information and help consumers connect with your brand. To achieve these goals, however, retailers have to encourage customers to pick up and read this literature in the first place.
Custom brochure display holders are your solution. These simple cardboard structures can draw attention to your pamphlets and the products they advertise. Design and display your own cardboard brochure holders to enjoy the following benefits:
Organized space: A brochure display provides one compact and neat space to stack all of your marketing materials. With organized, distraction-free countertops, customers will be more likely to notice and pick up a brochure.
Flexible placement: Thanks to a lightweight and recyclable cardboard design, brochure displays are easy to set up and relocate. You can keep them at countertops or checkout aisles, bring them to conventions and trade shows or place them virtually anywhere you choose.
Increased brand awareness: Our range of design styles and materials ensures a unique and fully branded finished product. In addition to choosing the size and style, your business can apply your messaging, colors and imagery to each display. Beyond the brochure inside, your display itself can now serve as a valuable marketing tool.
Convenient space: A free-standing brochure holder display can stock as many brochures as you need without taking up a large amount of counter space. Keep your literature supplies on-hand and easily accessible to customers in a low-maintenance and budget-friendly manner.
Why Work With Creative Displays Now?
As an industry leader for almost 60 years, Creative Displays Now is known for our commitment to excellence. Our combination of advanced technology and industry expertise helps us stand out from the competition in several ways. What sets us apart?
In-House Design and Production
Our expert team members complete every step of our process under one roof. Instead of outsourcing production, we control the timeline and quality of every project by keeping our process in-house. This includes the initial design, prototyping, printing, manufacturing and distribution.
As a result, we can ensure unmatched quality control and speed. Our team will design and deliver your custom brochure displays on a tight timeline — our 99% on-time record speaks for itself.
Full Customization Capabilities
We can tailor each display project — from hanging signage and floor displays to brochure display holders — to fit your business' needs. Our custom capabilities include sizing, display design, printing styles and branding. Plus, you can add your company's logo and messaging with premium printing for a stand-out finishing touch.
Sustainable Products
Made with 100% recyclable materials, our cardboard brochure holders are designed for temporary use. Businesses can replace brochure holders to reflect updated products or literature while remaining eco-friendly.
Request a Free Estimate for Cardboard Brochure Holders Today
Creating a unique brochure display holder has never been easier. Our team of structural designers can work with you to craft a custom display that suits your needs, literature and brand. Reach out to Creative Displays Now to get a free estimate for your project. If you have any questions, contact our team or give us a call at 1-866-244-2214 to learn more.