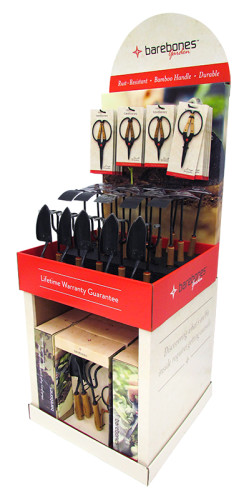 Corrugated Cardboard Endcap Displays for Retail Stores
Effective endcap displays can make a huge impact on shoppers when designed successfully. Often placed in the high-traffic areas of retail stores, retail endcap displays (also known as end aisle displays) help your product stand out to consumers. Similar to power wing displays, these can be pre-packed for easy setup in the store.
Our structural and graphic display design, project management, and sales teams have years of experience to help your company launch your endcap displays into the marketplace.
Custom Displays
All displays are custom designed and manufactured - we don't sell stock displays.
Everything Under
One Roof
Prototyping, design, printing, manufacturing and distribution all completed in-house.
Speed
Because everything is under one roof, we are the fastest in the business (over 99% on-time).
60 Years of Experience
We know what works at retail, including understanding store specs at major retailers.
End Cap Displays Examples
Hear What Our Customers Have to Say
"Thank you.  The sample looked great.  You guys did a great job and I look forward to working with you in the future."
– Dan P., Printing Communications
"Your service is the best I came in contact with. The displays and shipper covers look great. I want to thank you for everything."
– Kevin W., Calcium Products, INC.
"Got the displays and put some of them together. Thanks so much. This is a great product!"
– Jodi G., Director, GreatSchools Milwaukee
View More Testimonials
Benefits of Custom Cardboard Endcap Displays
Endcap displays can come in a multitude of forms. You typically place them at the end of an aisle in busy areas of retail stores to display specific products and encourage sales. They can successfully draw customers to a certain aisle while also promoting a featured product. This could be a new item, a bestseller or a product that's on sale — the choice is yours.
Creative Displays Now offers several different retail endcap display types. You can choose from styles such as:
Endcap floor displays: Easily set up large endcap floor displays on store floors to meet a customer's eye-level. This helps customers notice and purchase your featured products. You'll likely want to place these near the point of purchase (POP) or at specific aisles to help customers know what they can find.
Endcap shelf displays: These displays include several shelves filled with your featured item. You may include large volumes of the same product or a mixture of similar items. Place your endcap shelf display in a conspicuous location and use attention-grabbing colors and graphics to increase your sales.
Half pallet displays: Promote a large number of your products at one time with a half pallet display. Customers can easily grab products and add them to their cart near POP locations with this display.
Endcap displays offer several benefits. Whether you opt for a floor, shelf or half pallet style, you can use endcaps to showcase your branding and combine your sales and marketing efforts.
They are also effective ways to remind shoppers of what they might need and entice them to add certain products to their purchase. Attention-grabbing visual appeal and strategic locations can help customers navigate and discover products they otherwise may have missed. These factors work together to improve your sales and brand awareness.
Working With Creative Displays Now
When it comes to unique retail endcap displays, Creative Displays Now offers unparalleled customization and quality options. Every stage of our process — from expert design to reliable distribution — happens under one roof. This in-house system gives us control over the quality and speed of every single project, for results you can count on.
Our process begins with design, where we'll help bring your ideas to life. We can customize your endcap displays to include specific logos, colors, branding and language. We'll also tailor displays to your size and shape preferences.
After sending you a prototype of your display, we'll begin printing. A range of in-house printing capabilities gives you control over how your final result will look. We then manufacture endcap display cardboard items and deliver them to retail locations. With our over 99% on-time record, you can count on deliveries coming exactly when you expect them.
Design and Order Your Retail Cardboard Endcap Display Today
Creative Displays Now allows you to customize your cardboard endcap display for a one-of-a-kind retail experience. Design your endcap display with help from our team of structural designers. Get started by requesting a free estimate or calling us at 1-866-244-2214 today.