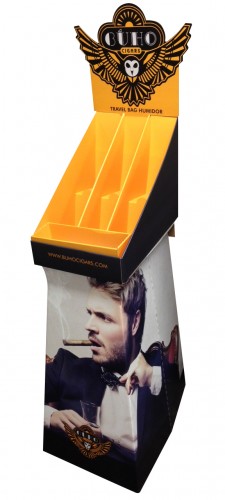 Custom Corrugated Cardboard Floor Displays
Creative Displays Now specializes in designing, manufacturing, and distributing custom corrugated floor displays for the retail environment. Ideally, point of sale (POS) floor displays are designed to market your product through eye-catching graphics and structural creativity. With eye-level custom display shelves, unmissable size and colorful prints, custom floor displays are an effective way to draw your customers' attention and encourage sales.
Our structural and graphic display design, project management, and sales teams have years of experience to help your company launch your retail floor displays into the marketplace. Successfully market your product with custom floor display stands designed with us.
Custom Displays
All displays are custom designed and manufactured - we don't sell stock displays.
Everything Under
One Roof
Prototyping, design, printing, manufacturing and distribution all completed in-house.
Speed
Because everything is under one roof, we are the fastest in the business (over 99% on-time).
60 Years of Experience
We know what works at retail, including understanding store specs at major retailers.
Custom Floor Displays Examples
Hear What Our Customers Have to Say
"Thank you very much! It is a pleasure to work with such a professional company! I am looking forward to receiving the displays and really appreciate your help with this product."
– Kate, Megawine, Inc.
"Thank you.  The sample looked great.  You guys did a great job and I look forward to working with you in the future."
– Dan P., Printing Communications
"Got the displays and put some of them together. Thanks so much. This is a great product!"
– Jodi G., Director, GreatSchools Milwaukee
View More Testimonials
Types of Custom Cardboard Floor Displays
Custom floor displays come in all shapes and sizes. This range allows you to place your products in various locations around retail stores, maximizing the potential for successful sales. Choose from floor merchandisers such as:
Case stacker displays: Often used to display beverages, case stackers are an attention-grabbing yet straightforward way to promote any beverage from soft drinks to beer and wine.
Pallet displays: Stack and show off products with a printed pallet display, customized to fit your brand.
Floor bin displays: Floor bins, whether in a classic shape or a dynamic hexagon configuration, save floor space and effectively display many products. Custom printing can advertise the product, while the bin easily holds a large number of items at POS locations.
Endcap displays: Usually placed in high-traffic areas of a store, you can easily pre-pack and set up endcap displays to stand on the floor, helping your product stand out.
This is not a comprehensive list — Creative Displays Now offers many different types of custom display stands you can choose from and customize! Browse our structure selection to learn more.
Benefits of Retail Floor Displays
From floor display stands and hanging signage to countertop structures, there are a myriad of ways to display your retail products. How can a custom cardboard floor display help you increase sales and draw in customers? Floor merchandisers offer several unique benefits:
Sturdy and Reliable
Because of their size, well-made floor structures tend to be sturdy and long-lasting. Retail floor displays from Creative Displays Now typically feature a thick and recyclable corrugated cardboard that stands upright without flopping or sagging. A strong yet easy to open frame keeps your display looking fresh and professional for as long as you need.
Easy to Move
Cardboard floor displays are lightweight and portable, allowing you to place them wherever you need. You can choose to strategically put floor merchandisers near store entrances, checkout aisles or specific sections.
Eye-Level Focus
One undeniable benefit of cardboard floor displays is their height. It's difficult to miss a retail floor display stand at eye level, so customers will likely see your advertised products. This is particularly beneficial when floor display stands are placed near the point of purchase. As customers wait in line, they're drawn to notice and consider your featured products, increasing your likelihood of a sale.
Cost-Effective
Creative Displays Now offers affordable options for custom cardboard floor displays. Their cost-effective nature makes them easy to update and replace while sticking to a budget. This means you can easily swap out your custom floor displays to reflect the current season, latest campaign or newest product, all while showing potential customers a fresh look.
Create Your Custom Retail Floor Display Today
Creative Displays Now is ready to fulfill your custom floor display needs. With almost 60 years of experience and a team of expert structural designers, we can help you create unique and effective retail floor display stands. Contact us to learn more or give us a call at 1-866-244-2214 and get your project underway. If you have any questions about budgeting for a custom project, get a free estimate from our experts today.