Life is full of ups and downs, but at least you know there's always one thing you can count on: wine.
That's why we're especially thrilled to introduce you to Oliver Winery & Vineyards, our latest Featured Client here at Creative Displays Now.
About Oliver Winery
These days, it seems like more and more wineries than ever are cropping up all over the United States. So to really stand out means you're doing something right. And that's exactly why we love Oliver Winery – they're focused on thinking differently, which we think has contributed greatly to the fact that they've been around for 45 years.
We love partnering with innovative forward thinking brands, and that's Oliver Winery. They don't follow the trends – they create them.
As an employee-owned company, everyone involved with Oliver's is clearly dedicated to seeing it thrive and grow. And grow it has. It's now one of the most prominent wineries in the entire Midwest region.
But they weren't always a huge industry name. Oliver Winery comes from humble beginnings. It began as a mere hobby in a basement. Professor William Oliver of Indiana University Maurer School of Law had a love for wine back in the 1960s, but his hobby turned into a passion, and that, coupled with his belief in helping local businesses, led to what is now a great empire in the world of wine. He was even instrumental in passing the Small Winery Act of Indiana, which paved the way to the opening of the winery.
Now, the wine he created is shipped across the country, and the wine collections have grown to serve every palate.
You should absolutely check out their incredible winery if you ever find yourself in southern Indiana! As both the oldest and the largest winery in the State, there is no shortage of beauty and a wide portfolio of wines to taste.
Enjoy a tasting with friends and family – perfect for celebrating a special occasion. Or, simply take a walk through the gardens and relax in the sunshine on the patio. Visit during a summer weekend for free live music, or plan a fall trip to enjoy the foliage.
Finally, we want to applaud Oliver Winery's clear commitment to community service. They're especially involved in giving back to the arts and healthcare, two areas that are important to us as well. As if you needed another excuse to enjoy more wine.
What We Created Together
We've had the pleasure of working with Oliver Winery on several projects, and have developed a wonderful working relationship over the past years. We've created numerous displays that show off their amazing products.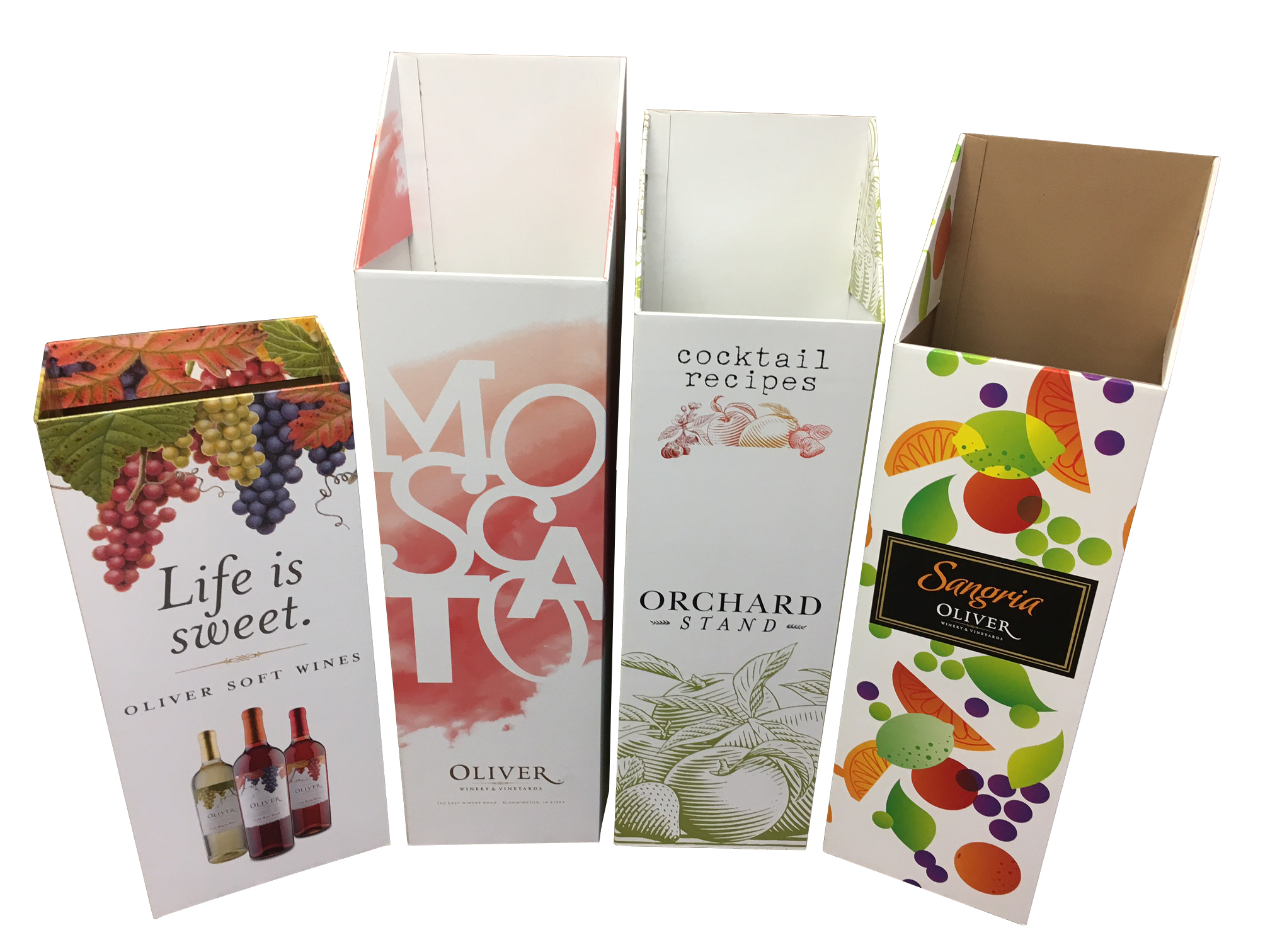 Though it's hard to choose a favorite, we have to say, we're big fans of the Sangria Stacker display we created for them. We chose to go with a litho print, which gives the displays that high-end, professionally-finished look and feel that perfectly complements the quality of the wine they hold.
Since many of these displays end up in regional wine retailers, we also wanted to create something that would give customers an idea of the incredible day they could have with a bottle of Oliver's Sangria.
For our "Sangria & Salsa display," we picked a shape and design that could hold multiple bottles and boxes of everyone's favorite thing to sip in the summer. Plus, we left enough room on top for retailers to stack some chips and salsa! Consumers today are busy, and the one-stop-shop philosophy really speaks to them. Win, win.
We're all about the psychology of marketing, so the eye-catching green shade is just about guaranteed to make even the most stressed out shopper park the cart and grab a few bottles.
Frankly, we can't think of a better way to spend a warm afternoon than with a bottle (or two) of Oliver wine.
We were so happy to learn that the team at Oliver loved what we created. Nothing is better than getting great feedback that confirms we're accomplishing what we strive for, giving 100% of ourselves, 100% of the time.
"As a Midwest winery, it's great to work with another Midwest company. Brian and team have helped us take our point-of-purchase materials and display pieces to the next level. Their team is flexible, and they are great about presenting us with cost-saving options and structural insights.  – Sarah Anderson, Director of Marketing, Oliver Winery"
We look forward to working with them for many more years to come!
Need Custom Retail Displays for Your Brand?
Be honest with yourself: when was the last time you actually evaluated how your products look in stores? Are your displays doing everything possible to make shoppers drop what they're doing and check out what you have to offer?
If not, don't worry – we're here to help.
Reach out today to get an estimate or give us a call at 1-855-284-6922. Let us show you more about how we can create a unique and on-brand retail display that will help increase your sales and brand recognition. Who knows? You might end up becoming our next Featured Client!