The inventive minds at Creative Displays Now, an online brand of Great Northern Corporation, brought home four OMA Awards for their work with Perrier, Tradewinds Tea, 3M, and Purina. One gold, a silver, and two bronze medals were awarded for the style and ingenuity displayed by the four in store displays.
Gold: Perrier "Best Trip Ever" Topper
The "Best Trip Ever" topper was designed to integrate with existing product stacks to display eye-catching design and Perrier creative to promote Perrier's "Best Trip Ever" Sweepstakes. The topper came out on top at the OMAs with a gold medal for temporary supermarket displays.
Silver: Tradewinds Jimmy Buffet Iced Tea Display
Another sweepstakes-driving display, the Tradewinds display for Jimmy Buffet Iced Tea required promotion of a karaoke competition and also provided an off-shelf merchandising experience that captured the carefree, tropical theme of the new product. This design took second place for temporary supermarket displays.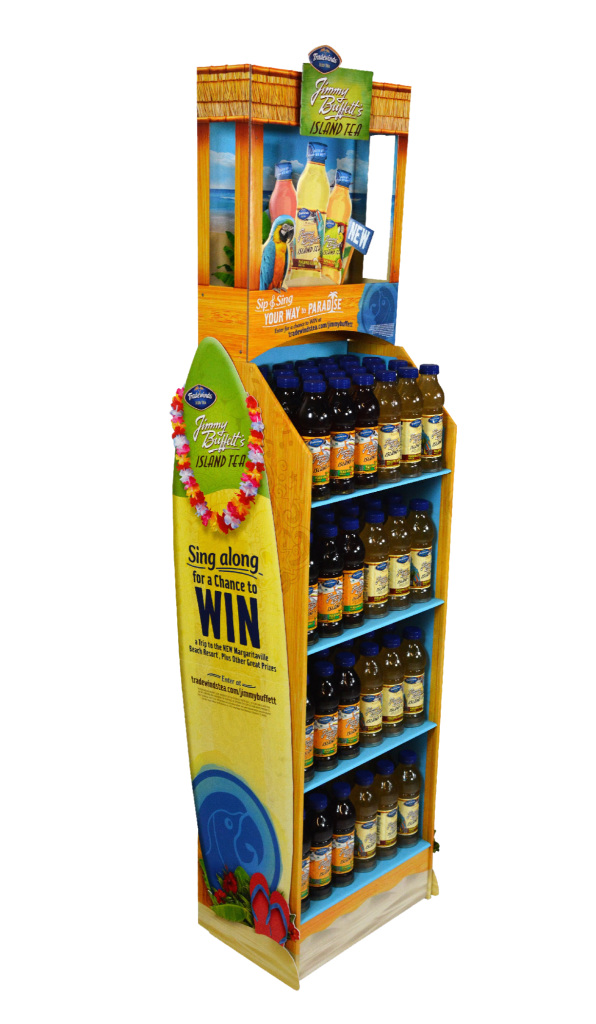 Bronze: 3M Office Depot/Max Expressions POG
To showcase the fun and creative tape patterns offered by 3M, this display blended form and function to turn a large shelf system into a beautiful palette of tape designs that shoppers could easily browse. This creativity-inspiring piece took bronze among permanent displays for books, stationery, and office supplies and was reported as driving sales well beyond expectations.
Bronze: Purina Purpose End Cap
The last award taken was for the creative work done to engage and educate pet owners about a new cat litter product that features unique scent options. The focal endcap married eye-catching design with a fragrance test feature, earning a bronze award and a 680% lift in product sales.
About The Annual OMA Awards
Since the inception of the annual OMA awards ceremony in 1958, this exclusive event has honored the best of the best in the field of commercial and point-of-purchase displays. Judges are chosen from among the top retailers and producers in the marketing field. Once selected, this panel of distinguished judges evaluates each display based on the written documentation submitted by competitors, photos of the competing displays and the actual displays on exhibition on the At Retail Marketplace show floor at GlobalShop. Top companies from around the world participate in the OMA competition and vie for the coveted Gold, Silver and Bronze award, making this one of the most prestigious contests in all of marketing and retail merchandising. CDN's impressive performance at this event is a testament to the hard work and outstanding talent demonstrated by its staff members.
To see displays that have won previous awards, check out the Industry Awards section of our blog.
More About Creative Displays Now
As a leading display manufacturer and design firm, Creative Displays Now provides our customers with start-to-finish solutions for all their retail merchandising needs. We strive to create award-winning work with every one of our projects and we're honored to be recognized again for our work this year.
If any of our work caught your eye or you're looking for award-winning in store displays, go to Creative Displays Now or contact us to get started.