If you're like most people, you've at one time or another used a kitchen knife that required you to saw through food like you're hacking through the trunk of the Christmas tree. Dull blades are no fun for the at-home chef, but beyond the frustration of that lackluster blade, did you know that it's actually a dull knife that causes most cooking accidents? Yeah…we were surprised too!
When it comes to preparing delicious show-stopping meals for guests and family, you need sharp cutlery that makes the cut – pun intended.
Introducing our latest Featured Client, Cutco, the largest American manufacturer of premium cutlery for almost 70 years. Cutco knives are designed to slice any type of food in a precise and safe manner, every single time.
The Cutco Story
Since 1949, Cutco has manufactured high-quality kitchen knives that have become a household name. Contrary to many knives that are made of wood and cheap plastic, the premium cutting tools Cutco crafts have handles composed of thermo-resin for optimal strength and durability.
Most people wouldn't dream of using a chainsaw to carve a turkey or a sledgehammer to crack a walnut. For any job you perform, the right tool is needed. Cutco offers an exclusive set of knives that each serve a specific purpose. For example, the petite chef is great for slicing an onion, whereas the butcher knife is perfect for chopping big pieces of meat and cutting large fruits. Other knives available are carvers, slicers, table knives, trimmers (utility knives), cheese knives and paring knives. When you have the right knife for the task at hand, cooking can suddenly become fun again!
Every Cutco knife is proudly Made in America, manufactured in Western New York, and protected by a one-of-a-kind Forever Guarantee.
Creating the Perfect Display
When Cutco approached us about producing pallet displays for their participation in Costco's Road Show program, we helped them create an unprecedented presentation that could effectively highlight the company's American-made knives in an eye-catching manner. In order to showcase their high-quality products, we used a four-color process litho label for premium quality print.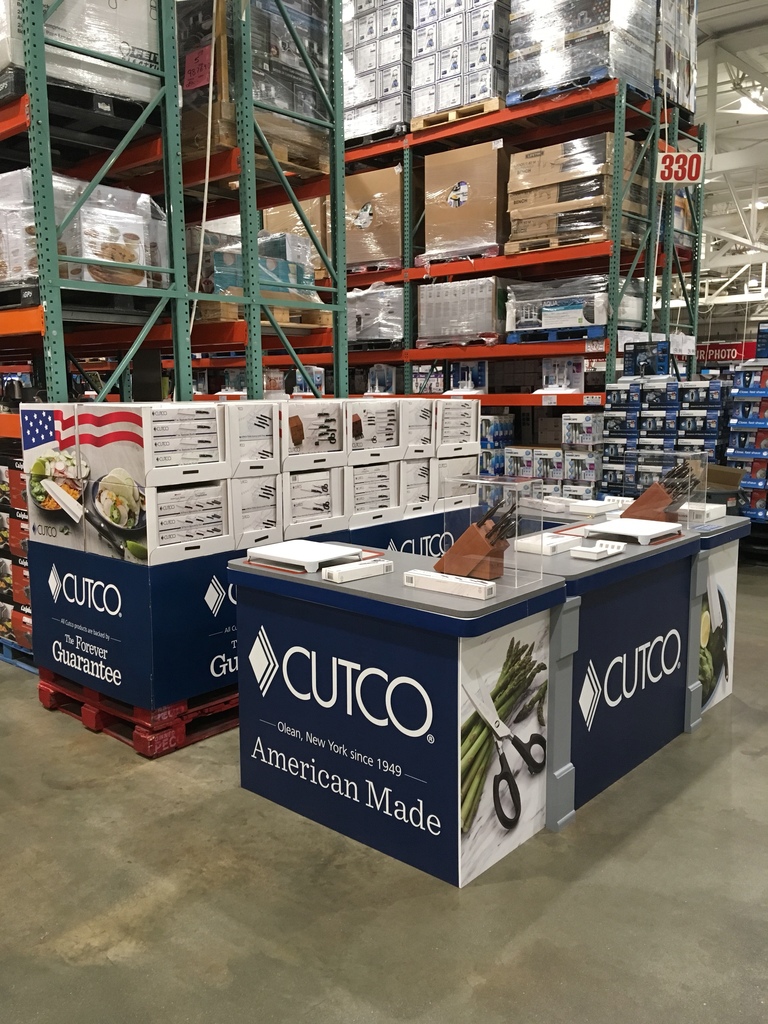 They chose a classic, simple blue and white color scheme to let Cutco's products be the star of the show. It was also a bit of a hat tip to Cutco's unwavering commitment to manufacturing their kitchen knives proudly in the USA. After the completion of the project, we shipped the display flat in bulk and Cutco set up and assembled the displays with their products.
Our #1 Goal: A Positive Client Response
Cutco was pretty thrilled when they received the final product. They even told us "The entire design process was incredible! Turn-around time on renderings and prototypes was extremely quick, which helped our internal design team tremendously."
Now that's a reaction we love getting. They also commented about our team being very patient with their change requests. We understand what it takes and know that only a truly collaborative process will get our clients the results they feel are "optimal." The Cutco team even went so far as to say they were "blown away" with the finished product and that they "couldn't be happier with the result and the experience of working with Creative Displays Now in general!"
We're Here to Help
We're thrilled that the Cutco team loved the display that we created for them. Creative Displays Now prides ourselves on thoughtfully producing displays our clients can be crazy about. If you need a creative and unique display for your brand, reach out to us or call today at 1-855-284-6922 so we can help make your display dreams come true.