No matter what time of the year or what the occasion, due to the competitive nature of the liquor industry, you need to do whatever it takes to stand out. Plus, with the holidays around the corner, the competition between brands will only get more intense. So, what can you do to make sure your product shines the brightest? Here, we've gathered 3 of our favorite liquor display ideas and tips to make sure you end up on top.
#1 – Use Your Space
A great liquor display isn't intimidated by space constraints. To maximize displays in small retail spaces, sometimes you have to reach for the stars – literally! Check out one of our favorite examples of liquor displays: this Jack Daniels Christmas tree. It's a success on so many different levels.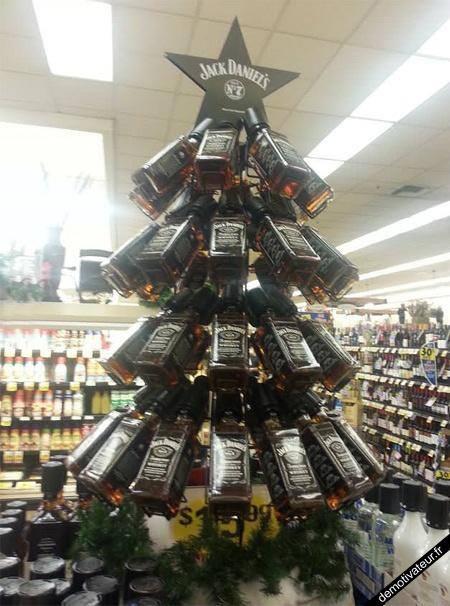 First of all, it incorporates an upcoming holiday, making it appear festive and, of course, eye-catching.
Secondly, it's clearly branded, from the bottle branches to the Jack Daniels star at the top of the tree.
Finally, notice how it's towering over the shelves in the store. This way, more of the product can be displayed and the inventory can be depleted faster. We also love how easily the display can be refilled when a customer snags an "ornament" from the wire baskets supporting the bottles. This display is an across-the-board success, and its creativity means it will be noticed before anything else in the store.
#2 – Encourage Last-Minute Purchases
Never underestimate the power of point of purchase displays. These are the countertop or checkout line displays that house smaller, affordable items that customers "decide" (they don't need to know our marketing secrets) to toss into their shopping carts on their way out. Mini bottles are ideal for POP displays, as there are so many different designs you can make out of them. You can individually wrap them in a clear bag with a festive bow, make a mini-bottle bouquet that will be snatched up by the bachelor/bachelorette party crowd, or simply create a brightly-colored and branded cardboard POP display that sits neatly atop any counter. After all, everyone knows that good things come in small packages!
#3 – Let Customers Try It Out
One of the best ways to get your product attention in a liquor store? Unquestionably, it's by allowing customers to sample your products! We love this display because it's both creative and functional. The "grill," alone with the football sign, suggests that this specific type of wine is perfect for relaxing on game day, and that it pairs well with meats. The grill top is perfect for storing a couple of sample bottles of wine, along with glasses or disposable cups. Since it's a smaller display, a sales rep can easily move around it from all angles. Plus, check out how the display has maximized its storage space by fitting rows of bottles underneath the grill top. Not only does it look sleek, it also means that customers won't be missed when a representative is going to the back to refill their stock. Now that's a smart play.
We hope you've learned something from this list of 3 of our all-time favorite liquor displays. Plan to use some of the ideas you've seen here? We always love seeing what our readers have been up to, so feel free to send us some photos of your liquor store display in action!
To start your own project, click here or contact us and we'll help you with all your questions. You can also reach us via phone by calling us at 1-855-284-6922.